OOXML Hacking
Print edition sold out
But the ebook is here!
Available now from:
Barnes & Noble (United States)
Kobo (World-wide)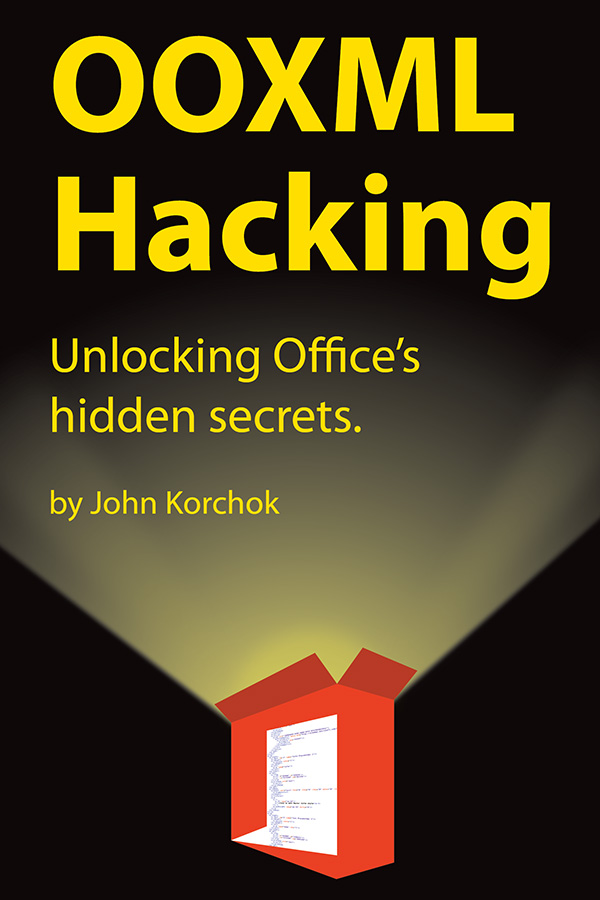 OOXML Hacking v.2 now has 40 more pages of content than the original print edition. Why are multiple slide masters a hazard to your presentation? How do you make chart templates that contain dozens of colors? How do you create custom table styles with special formatting for the corner cells? How do you change placeholders types without redoing them all? This book answers these questions and many more.
A necessary addition to every Office professional's bookshelf. Crack open Microsoft Office files to make them do what you can't in the programs. This unique book tells you how to create custom table styles in PowerPoint, how to lock pictures in Excel and add custom content to Word galleries.
This is written for both Mac and Windows users, and includes topics that Mac users will treasure, like how to modify the Office Ribbon without using Windows software.
But then it goes further, into topics that you can't find anywhere else, online or in print, such as how to create PowerPoint SuperThemes, custom Office Effects themes and locking shapes in Word, Excel and PowerPoint. This page shows the Table of Contents, so you can see all the topics included.
But here's the best part: If you're unable to complete any of the topics, you can hire Brandwares to do the hard parts for you!
Endorsements
Here's what the experts from around the world are saying about OOXML Hacking:
I've been enjoying (greedily gobbling up would be a fairer description) John Korchok's support posts on newsgroups like Microsoft Answers and his web site/blog essays for several years now. His articles on editing/modifying/hacking the XML that constitutes MS Office PowerPoint and Word files have become my go-to sources, both for my own use and as recommendations for people who want to work with Office XML but have no idea where to start. And now John's unleashed a whole book on the subject; this one's a winner for anyone who wants to know more about the internals of MS Office files in order to change the way they work.
- Steve Rindsberg, PowerPoint MVP, http://www.pptools.com
John has shared so many years of his ideas and secrets on how you can brand your Microsoft Office documents and style them as you want, using nothing more than editing a few lines. If your work involves the appearance of PowerPoint, Word, and Excel content, you must read, and implement what you discover in this book.
- Geetesh Bajaj, PowerPoint MVP, https://www.indezine.com
This is an essential book for professional or advanced users wanting to delve into the inner workings of the Open XML format that has been used in versions of Office since 2007. In many cases this allows formatting that cannot be created using the standard user interface. Examples include Custom Default Table Styles, locked shapes that cannot be selected, Custom Colors in the Shape Fill Dialog and many more. Open XML is very unforgiving of mistakes and is poorly documented elsewhere. In the past anyone going down the path of manually editing Open XML was often in for a very painful experience and broken templates. With John's many examples, the pain, though potentially still there, is substantially reduced.
- John Wilson, PowerPoint MVP, http://www.pptalchemy.co.uk
Please note, this e-book has digital rights management applied. All code listings are available in a downloadable text file, so you don't have to re-key anything.